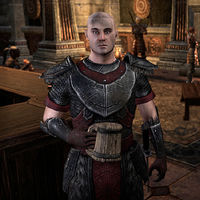 Messenger Narfild Deepcrag is a Nord member of the Fighters Guild found on the second floor of the hall located in The Hollow City.
When you speak with him he will be admiring the architecture.
"It's like stepping into the past. We're walking around in a piece of history! Look at the architecture!"
Any word from the missing fighters?
"Some of our troops have made their way back to the city, but we're still missing more people than I'd hoped.
With any luck, they're still alive out there and just waiting to be rescued."