To meet our site's higher standard of quality, this article or section may require cleanup.
The user who placed this here had the following concern:
May need to be updated following changes in Update 26.
To leave a message about the cleanup for this article, please add it to this article's talk page.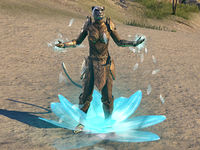 Lotus Flower causes your Light Attacks to restore your Health, while Heavy Attacks will heal yourself or a nearby ally by a greater degree. The Green Lotus and Lotus Blossom morphs will also increase your Weapon Critical or Spell Critical respectively.
Patch Notes
Edit