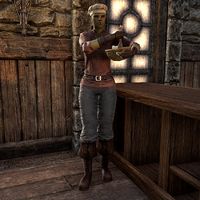 Logru is an Orc chef working at the Sleepy Sailor Inn in Koeglin Village.
She tells you about herself.
"I'm pretty good with knives. I know how to fillet fish, butcher livestock. I can gut an enemy on the battlefield too, if I need to. But honestly, I prefer to cook."