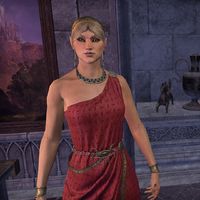 Lady Sarah is an Altmer innkeeper who works on the ground floor of the Shrewd Brew in Lillandril.
Lady Sarah will greet you with one of the following lines:
"I know some of us here in Summerset have been true de'nts about this open border situation, but just know that we don't all feel that way. For me, you're all most welcomed."
"Barra! Just know, my inn accepts any and all. And if you have a problem with any of the guests? Just speak to me."
"My chef Holi is just upstairs if you're in need of a hot meal. Such a sweet girl.
Otherwise, I'd be happy to help whatever you need."
If you are an Altmer, her greetings are different:
"Some of the stories I hear, why it's enough to break my heart. Who would think that Summerset citizens could be so cruel? We must help one another in these troubling times.
Now,

how may help you 

[sic]?"
"Aren't all of these newcomers just grand? Never before have I had such interesting characters visit my inn. Everyday I seem to see or hear something new."
"My girl Holi is the sweetest little Wood Elf you ever did meet. Make sure to treat her with respect, you hear? I'll have no disrespect in my inn."
Lady Sarah was previously named Tenigwe but it was changed during patch 4.0.3. Holithel, the inn's brewer, and Aishie, a noble by the entrance of the inn, still refer to her by that name.