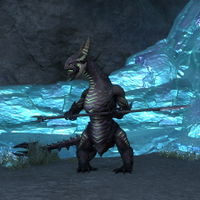 Krodunth the Mantikora is a Mantikora found in the natural caverns section of Nchuthnkarst. It has been transported through time and serves as one of the champions of the dungeon.
It has a chance to drop the Antiquity lead for Inclined Dwarven Paneling.
Skills and Abilities
Edit
Flame Spear

Krodunth plunges its spear into the ground, causing flames to erupt around it in a large AoE and dealing major flame damage.

Staggering Spear Sweep

Deals major physical damage and causes you to stagger.
Achievements
Edit
There is one Achievement associated with this creature: