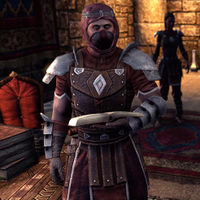 Kaman is a Redguard found in Sentinel's customs house, located north of the docks.
If he is spoken to after the undead are stopped at the docks, he will be grumbling about the amount of paperwork he has to go through.
"I've entirely too many manifests to go over. I almost wish more boats had sunk. It would save me the paperwork."