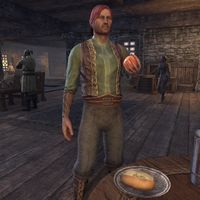 Jimy Gidric is a Breton merchant who can be found at the Crosswych Inn in Crosswych.
Prior to liberating the town from the Red Rooks, he'll say:
"Don't tell anyone, but I hear we're organizing a resistance."
"I've got half a mind to take one of these Red Rooks and—oh, who am I kidding? I'm not a fighter."
"It's time to take action! I'm sick and tired of these Red Rook bandits!"
"Why doesn't somebody do something? We can't let these Red Rook thugs walk all over us!"
After the Red Rooks are gone:
"The Red Rooks caught us off guard. That won't happen again."
"I think it's time to pack up and move to Daggerfall. That should be safer than Crosswych, I imagine."
"That Tamien Sallen fellow turned out to be all right."
"I hear we have you to thank for getting rid of the Red Rooks. We appreciate whatever you did."