Iulianus the Footsore
Home City
Sentinel
Race
Imperial
Gender
Male
Health
25974
Reaction
Justice Neutral
Pickpocket
Medium
Profession
Commoner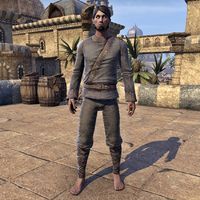 Iulianus the Footsore is an Imperial commoner found on the roof of the Desert Star Tea House in Sentinel. He has no shoes.
He talks about his missing footwear.
"I suppose losing my shoes is at least less embarrassing than losing my clothing."
"Do you see this on my feet? Know what it is? It's dirt."
"I'd ask you to look for the monkey that stole my shoes, but you probably have more important things to do."