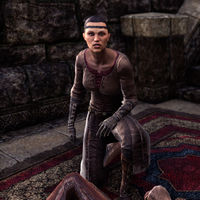 Ilmaha at-Amil is a Redguard informant for Prince Azah who can be found at the Royal Seraglio in Sentinel. She kneels over Roheebah, the other informant, who is lying on the ground in pain.
Related Quests
Edit
Quest-Related Events
Edit
General Thoda tasks you with finding Azah's two informants at the Royal Seraglio. Speaking to Ilmaha, she says:
"I … should have tried to stop them. I'm sorry, so sorry. What have I done?"
What happened?
"It was a nightmare! These savage men burst into the seraglio. They struck down the guards and even sweet little Roheebah … and then they took the prince!
Please …. could you, would you go after them? You have to."
Of course. Did you see where they took him?
"No. Yet another way in which I failed! I should have followed them out into the street …! I'm such a fool!
Maybe someone else out there saw them—maybe they can tell you which way those men took the prince …."
It's worth a try. I'll go ask in the street now.
After speaking to her the first time:
"This place is such a mess. I'm … it's going to take hours to clean it all up."
Once you have rescued the prince she will still be watching over Roheebah while Rindulath the Mender does his work.
"To know the prince lives is a great relief. I never would have forgiven myself were he harmed."
Her appearance appears to be randomized, and she may changed hairstyles and clothing between each visit.