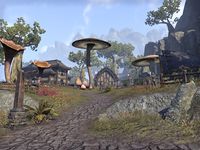 The House Dres Farmstead is a farm in central Deshaan, just south of the city of Mournhold. Deepcrag Den lies to the southeast. The farm is occupied by Maulborn agents, who are working with members of House Dres. Lettuce, corn, pumpkins and grapes are grown here.
An entrance to the Mournhold Outlaws Refuge is outside the Dres Farmhouse, sitting against the southern wall. Argonian farmers tend the pumpkin patch. Bantam guar wander the premises. Dres Slayers and warriors guard the property with their Nix Hound companions.
There are goats in the barn. Overseer Melur is feeding a cat on the upper floor of the barn. A chest can spawn behind a boulder which lies between Sathram House and the Dres Farmhouse. The containers on the property can be looted without consequence. There is a heavy sack in the back of a cart at the northwestern corn field.
Achievements
Edit
There is one achievement associated with this location: