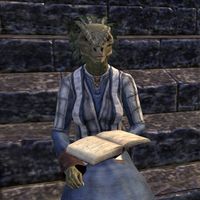 Honey-Nose is an Argonian student of the Shad Astula Academy. Upon arrival, she can be found on the steps opposite the Shad Astula Wayshrine, reading.
"You must be new. Did they tell you how hard this place is?
I'm in my second session and I'm still struggling with illusions, alterations, and military strategy."