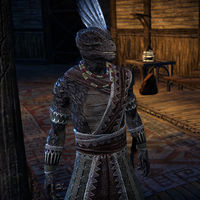 Haxal is an Argonian Brewer who can be found inside The Lusty Argonian Footman in Lilmoth.
"Do not forget to gargle your drink, beeko. There is no substitute for good manners"
"No rancid brews here. We boil our eel-paste fresh every morning! Now, what will you have?"
"You come for theilul and frog-songs, yes? Well, rest your heels and wallow, new-friend."
"My egg-sister and I discovered the secret to perfect snail-gin. Now we just need to discover the secret of how to make it not kill you when you drink it."