Glagbor gro-Uzug
Location
Sentinel Docks
Race
Orc
Gender
Male
Health
25974
Reaction
Justice Neutral
Pickpocket
Medium
Profession
Commoner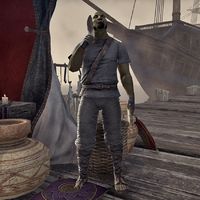 Glagbor gro-Uzug is an Orc commoner found on the Sentinel Docks after you clear the Ra-Netu by completing the quest Risen From the Depths. He is located at the south end of the long dock leading to Captain Albert Marck's ship.
He used to run an eatery on the docks, but his food has been spoiled.
"Oh! Hey there! Welcome to my eatery! Are you feeling hungry? Me, I'm always hungry."
I think your food is spoiled.
"My arse it is! Look at those meats! Prime cuts! Just a little ... you know ... dry. Wait—no, this one is wet."