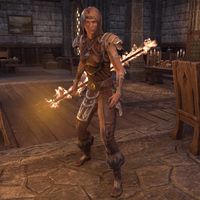 General Lavinia is an Imperial in charge of the Legion of the West Weald, the Colovian forces who took the city of Arenthia.
Related Quests
Edit
Quest-Related Events
Edit
Enter the inn and you'll hear:
General Lavinia : "The base is almost ready."
General Lavinia : "Only the ritual remains."
Mane Akkhuz-ri : "Excellent. Javad will be pleased."
Lavinia will attack as soon as she spots you.
General Lavinia : "You're too late. The dark anchor shall be created!"