Frozen Orc
Location
Sorrow
Race
Orc
Gender
Male
Health
0 (Dead)
Other Information
Condition
Frozen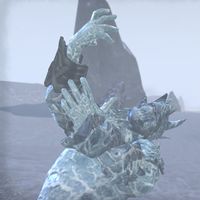 Frozen Orcs are deceased frozen Orcs found at the summit of Sorrow. One of them wears the Armlet of Torug.
Related Quests
Edit
Sorrow's Kiss: Help a famous archaeologist climb to the top of a mountain.
Interactions
Edit
Activating the Orc closest to the altar brings up this:
<The Orc, frozen in agony, seems to be focused upon the bracer on his arm. The bracer matches the description of the Armlet of Torug.>
I should take the Armlet of Torug.