This article could benefit from an image
of:
Fully upgraded and promotional render
See Help:Images for information on how to upload images. Please remove this template from the page when finished.
In Fang Lair, not even ancient warriors' steeds are safe from reanimation by necromancers! Though to be fair, if you're looking for "grimly impressive," this is the mount for you.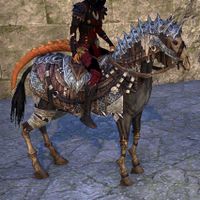 The Fang Lair Courser is a reanimated skeletal horse mount. Its default name is "Deadmane".
It was available from the Crown Store individually for 030003,000 

, or as part of the Dragon Bones Collector's Bundle for 040004,000 

. It entered the Crown Store on February 12, 2018 for PC, and February 27, 2018 for consoles. It left the store on June 5, 2018.
Occurrences
Edit
Appearances: 1
Crown Store - February 12, 2018 - June 5, 2018 (PC)
Crown Store - February 27, 2018 - June 5, 2018 (Consoles)