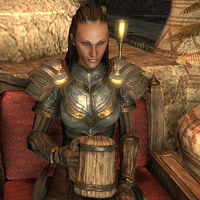 Fahdah the Eyeful is a Redguard who can be found at the Outlaws Refuge in Sentinel. She sits on a couch in the middle of the main walkway and is getting a foot massage from Saadifa. A to-do list she wrote is lying on the ground next to her.
She warns you to watch your step.
"I am a weapon. Tough as steel and twice as sharp. Remember that, and stay out of my way."
"I will hurt you. It's what I do. Now, get out of my shadow and walk away."