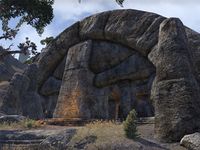 Exile's Barrow is a Nordic ruin located northwest of Orsinium. A small Orcish village can be found to the north, and has recently been troubled by draugr from the barrow.
Related Quests
Edit
Exile's Barrow Objective: Find a way to return the draugr to their resting place.
A Treasure in Need of a Home: Find a researcher interested in some Nord antiquities you have found.
Thukhozod the Eternal: Help a pair of adventurers find a missing Orc.