Discoverable
No
Dungeon
(?)
# of Zones
(?)
Occupants
Murtag Blademaster
Quest Chain
Stormhaven
Location
Quagmire
Loading Screen

King Emeric has ruled Wayrest so long and so well that his city has become almost an extension of himself. It is with him at all times, even—perhaps especially—when he sleeps.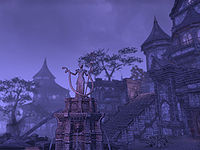 Emeric's Dream is a nightmare realm encountered only in the Daggerfall Covenant quest Vaermina's Gambit.
It is a mockery of Wayrest populated by the spirits of Supernal Dreamer cultists. Vaermina, the Daedric Prince of Nightmares, has trapped High King Emeric in this place of torment, with Emeric's torture personally overseen by a being known as the Night Terror.
Related Quests
Edit