Online:Elusara-la
The UESPWiki – Your source for The Elder Scrolls since 1995
Elusara-la
Location
Just south of Elden Root
Race
Khajiit
Gender
Female
Reaction
Friendly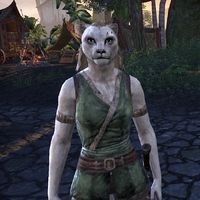 Elusara-la is a Khajiit who can be found in the Khajiit camp outside Elden Root. Said camp functions as their Embassy which is the crux of the problem.
Related Quests
[
edit
]
Quest-Related Events
[
edit
]
As you approach the camp, she can be heard complaining, "Shameful. This is not the Dominion we were promised." Talking to her, she'll elaborate:
"Completely unacceptable! If this is what If this is what Queen Ayrenn thinks of us, we should go back to Elsweyr!"
What do you mean?
"When we joined the Dominion, Queen Ayrenn promised to build us an embassy worthy of our stature. Today, these wagons are our embassy!
I went to petition King Camoran Aeradan for aid, but the lines in his throne room … they were endless. I suppose I could try tomorrow."
I could bring a message to the king.
"Truly? Here, this letter outlines our grievances. If you would bring it to the king, we would be in your debt.
Unless you wish to help pull termites from our "embassy.""
I'll deliver the letter.
Once you have agreed to help her, you can ask her some questions:
"To go back on one's word is a serious thing. If Queen Ayrenn cannot construct an embassy, how can she build the Dominion?"
Why don't you build your own embassy?
"We can do this, of course. But this is about Queen Ayrenn's word. If she cannot get her people to aid us with a simple building, how can we trust them to support us on the field of battle?
So we wait, and we see."