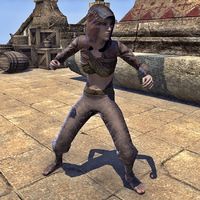 Elsonia is a Wood Elf commoner and member of the Fighters Guild who can be found on the roof of the guild hall in Sentinel.
If spoken with she'll complain about the recent safety measures.
"Those crates behind the target are brand new. A noble catches an arrow in the calf and suddenly it's safety first. What a joke."