Online:Ehshaz
The UESPWiki – Your source for The Elder Scrolls since 1995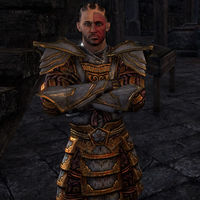 Ehshaz is a Redguard and the hall steward of the Fighters Guild guildhall in Orsinium. He emphasizes the position of neutrality that the guild has.
When spoken to he'll say:
"Most Orcs don't like the idea of Redguards and Bretons in Orsinium, and I can't say I blame them."
"The Fighters Guild ignores political boundaries and alliances. We go where we are needed.
And Wrothgar? Wrothgar definitely needs our help."
"We're the Fighters Guild. We don't take sides in political conflicts."
"I'm not here as a Redguard or as a member of the Daggerfall Covenant. I'm part of the Fighters Guild, and we're here to provide a service. We lend steel and shield to anyone who needs our help."