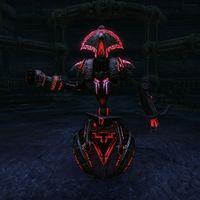 Dwarf-light the Destroyer is a Dwarven Arquebus that serves as one of the champions of Nchuthnkarst.
It has a chance to drop the Antiquity lead for Inclined Dwarven Paneling.
Skills and Abilities
Edit
Shock Blast

Deals moderate shock damage.

Summon Dwarven Spider

Summons three weak Dwarven Spiders.

Impulse Mine

Summons a mine that resembles a Dwarven Sentry. This mine moves to a spot of its choosing, stops, and arms itself. Stepping on the mine after it's armed deals moderate magic damage.
Achievements
Edit
There are two achievements associated with this creature: