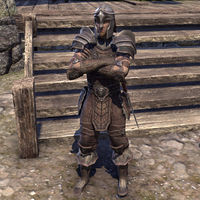 Caravan Guards are guards that patrol the city of Dragonstar. They wear Nord style armor and carry a two-handed weapon or a one-handed weapon and shield. When they were introduced in Update 6, they were initially called "Dragonstar Guards".
Types of Caravan Guards
Edit
This article could benefit from an image.
See Help:Images for information on how to upload images. Please remove this template from the page when finished.