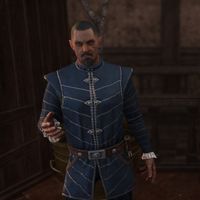 Delven Veloise is a Breton noble and the father of Isobel Veloise who can be found with his wife Miriette in their townhouse in Gonfalon Bay.
Related Quests
Edit
Quest-Related Events
Edit
Isobel will have received a letter from her friend Aurelia Jourvel who was sightseeing in Stros M'Kai. Aurelia was recently robbed of several of her personal items, including a family signet ring that Isobel had once given her. You soon find out it was actually stolen by her travelling companion Kiv Lindres, a serial conman. After tracking down Kiv and the ring, Isobel will want to hand over the signet ring to her family back in their home in Gonfalon Bay.
Once you enter their townhouse with Isobel, you will meet her parents and can witness their conversation:
Miriette Veloise : "Bella? Is that you? Come on up, we're just upstairs!"
Isobel Veloise : "Hello mother, hello father. I have some news. A thief stole my old signet ring, and may have caused us some issues. Don't worry, my friend and I are looking into it."
Delven Veloise : "Hmm. That would explain some letters we've received."
Isobel Veloise : "We caught the thief and I have the ring, but I want you to have it. I clearly can't keep it safe."
Miriette Veloise : "I am sure there's a story here, and I bet it involves Aurelia. But for now I'm just so glad to see you."
Isobel Veloise : "My friend, I'm proud to introduce you to the honorable Delven Veloise, and Lady Miriette Veloise."
Delven Veloise : "Welcome! Isobel writes us often, so we feel like we know you already!"
Speaking with Delven before Isobel:
"Nice to put a face to the name at last. Delven Veloise, great to meet you. Isobel speaks very highly of you."
After talking to Isobel, another short scene occurs:
Isobel Veloise : "Thank you, both. I'll feel a lot better if I know you have it. I love you guys."
Miriette Veloise : "Of course we'll hold it for you. But you know we trust you."
Delven Veloise : "Just let us know if you need any help sorting out where he went, all right? We love you too."
Talking to Delven after completing the quest with Isobel. He may say one of the following [verification needed — see talk page]:
"If I know my Bella, she's been beating herself up about this ring business. Tell her not to worry, all right? If anything's gone awry we'll put it to rights."
"I'd bet a handsome coin or two that the theft of the ring was somehow related Aurelia.
Those two were thick as thieves growing up, but Aurelia can be um. Careless sometimes."[verification needed — see talk page]
"I was sad not to be at the Tourney! Not every day a father gets to see his daughter elevated to her full knighthood. Hah!
She wrote us with all the details, and said that you were a big help."[verification needed — see talk page]