Daledan
Home Settlement
Narsis
Race
Dunmer
Gender
Male
Health
25974
Reaction
Justice Neutral
Pickpocket
Easy
Profession
Laborer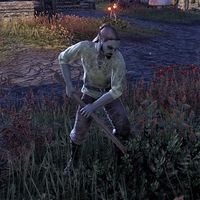 Daledan is a Dunmer laborer found in the town of Narsis. He tends the verge in front of the Hlaalu Kinhouse along with Madura.
When spoken to:
"The guards? Bah! Worthless, the lot of them!"
"I wonder where I can get a few Argonian scales?"
Conversations:
Daledan: "Did you hear about the Serk? There is no cure!"
Madura: "I knew it! The Maulborn are as dangerous as the Covenant these days."
Daledan: "Why do the guards allow them to camp so close to town? Bah! Worthless, the lot of them."