An Orc clan in the pay of the Covenant has converted an old Orc stronghold near Cradlecrush into an arena for blood sports. The amphitheater reeks of blood, Orc sweat, and bog-iron ale.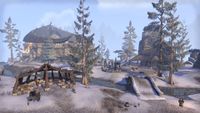 Cradlecrush is a fort in western Eastmarch, north of Fort Amol.
Related Quests
Edit
Cradlecrush Objective: Destroy the Stormfist legion holding Cradlecrush.
Breaches of Frost and Fire: Seal time rifts which have appeared across Skyrim and Morrowind.
WayshrineEdit