Adoption of the Riddle'Thar Epiphany was not without controversy: when the priests of the Shrine of the Consummate S'rendarr in the Jodewood refused to accept the new edicts, they were exiled and the temple deconsecrated. Today it is a bandit lair.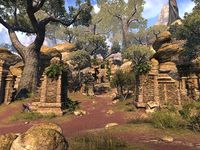 Claw's Strike is a ruined Khajiiti temple in western Reaper's March, located to the north of the Do'Krin Monastery containing Dawnmead Bandits. They are led by Fishbreath.
This delve contains a Skyshard, three copies of Skooma Runner Logs, and a Note to Marianas.
Related Quests
Edit
Clearing the Dungeon
Edit
Explore and clear Claw's Strike.
To clear this dungeon and mark it as complete, you need to kill the following bosses:
Achievements
Edit
There is one Achievement associated with this location:
The walls in the northeastern hall are not well fitted and sometimes glitch, trapping players inside.
Each image is relevant to its location, and each number corresponds to the key on the right.