This page or section is incomplete. You can help by adding to it.
details of appearances
For more information, see the help files, the style guide, and this article's talk page.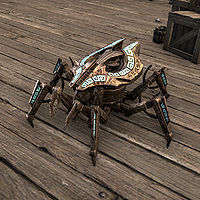 Clanker is a Dwarven machine owned by Neramo, who upgrades it over the course of the Daggerfall Covenant questline.
During the Quarry Conundrum quest in Wrothgar, Neramo will reveal that Clanker eventually ran out of energy and ceased to function.
Related Quests
Edit
This article could benefit from an image
of:
Dwarven Sphere version
See Help:Images for information on how to upload images. Please remove this template from the page when finished.