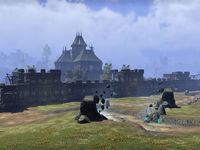 Castle Faregyl is a keep in southern Cyrodiil, south of the Imperial City. It is initially controlled by the Aldmeri Dominion. It is connected via the Transitus Network to Castle Alessia and Castle Roebeck. Only the Dominion can use the other two Transitus links to Castle Black Boot and Castle Bloodmayne.
It is an essential hub between the Aldmeri Border Keeps and the ring of keeps around the Imperial City. Faregyl must be captured in order to gain access to the Dominion's Scroll Temples.
Juras' Fall lies west of the keep. Fabanil can be found southwest of the castle.