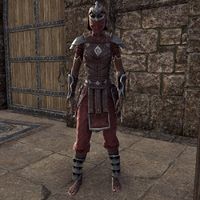 Casmen is a Redguard soldier of the Sentinel City Guard who can be found on the docks after you clear the Ra-Netu by completing the quest Risen From the Depths. She is located in the Warehouse where the dead are being prepared for burial. Casmen drew her sword during the attack and feels that she has dishonored herself.
"Oh! Hello, wayfarer. I am sorry, my mind wanders."
Are you all right?
"Lies are a coward's oasis, so I tell you the truth. During the attack, I committed a great sin. I am … hesitant to confess it, but I must if I am to retain my honor."
Did you strike one of the dead?
"No! No, wayfarer. Had I attacked one of my ancestors, I would not be standing here among them."
Then what did you do?
"I drew my sword."
That's it?
"Is that not enough? We Redguards do not cast down our sheaths unless we aim to spill blood.
I was cornered and I panicked. If the Ra-Netu had not stumbled …."
[Intimidate] Your ancestors already know what you did. Do you honestly think avoiding them will help?

"No … no, of course you are right, wayfarer. The greatest shame is found in cowardice. I made my choice. I will face the consequences. I thank you."

[Persuade] Your ancestors probably made similar mistakes when they walked among us. They'll forgive you.

"Do you think so? Forgiveness is a virtue we Redguards often struggle with, but surely our honored dead have learned it in the Far Dunes. I will show them my face and hope for the best. I thank you, wayfarer."

Well good luck.

"Thank you … farewell."