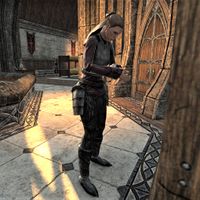 Carimalda is an Altmer fighter and member of the Fighters Guild found in the hall in the city of Marbruk. She crosses back and forth around the second floor gallery.
She is a capable fighter, to the shame of some of her fellow guildmates.
"Don't bother Lowindor, he's pretending to be asleep."
He is pretending to be asleep?
"Yes. We sparred earlier. He lost badly. He claimed he was tired.
I think I heard him crying a moment ago."