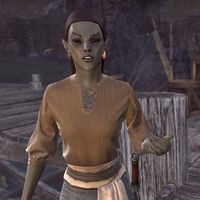 Captain Jenassa is a Dark Elf navigator who can take you to Seyda Neen or Vivec City on Vvardenfell. She can be found in many locations.
If the Morrowind DLC has not been purchased:
"Someday, you should think about traveling to Vvardenfell. A fascinating land, if I do say so myself."
Otherwise:
"In the mood for a little trip? I can take you to Vvardenfell. Ports of call include Seyda Neen and Vivec City."
Can you take me to Seyda Neen?
Perhaps Vivec City?