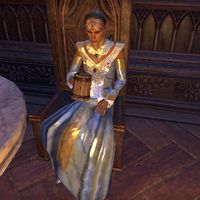 Calirririe is an Altmer commoner who can be found at the Golden Gryphon in Alinor, seated and having a drink. She is here with her bodyguard, Anirlo.
"Do not let Anirlo bother you. He merely makes certain no one causes me any trouble.
However, I would recommend you not cause me any trouble."
"I have never understood the idea of a public house, but I think I finally see the appeal. It is like leaving all decorum at the door and letting some beer-soaked beast take the reins. It must be very liberating."
"I came to see how the newcomers are faring with our hospitality. I have not been disappointed by the circus. It's so droll."