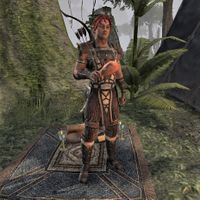 Caenlilmith is a Wood Elf and the Undaunted Quartermaster of the Elden Root's Enclave. He stands under a tree eating his drumstick on the north side of the encampment.
He will invite you to browse his wares.
"I've got just what you need."
"Coins burning a hole in your pouch?"
"You look ready to buy."