Crafting Site
Discoverable
Yes (enter)
Zone
Bruma Outskirts, Cyrodiil
Location
Bruma
Crafting Stations

Blacksmithing Station
Clothing Station
Woodworking Station
Jewelry Station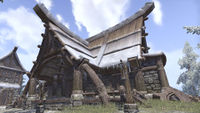 Bruma Armory is a workshop in Bruma where items in the Unchained Aggressor set can be crafted. Bruma must be owned by your Alliance in order to access the building. Methas Andavel can be found on the wall beside the armory.
Prior to Update 25, this building was a ruined house.