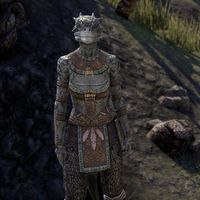 Bishalus is an Argonian fisherman and friend of Gena Omarys, who sends you to find her when Gena goes missing. She is afraid of nix-hounds.
Related Quests
Edit
Quest-Related Events
Edit
She seems afraid when you approach her.
"You look brave … brave like my Gena.
Please. Help me?"
What's wrong?
"I fear she's been eaten by nix-hounds. I'm terrified of them.
She made me a flute. Said it would calm them. To prove her point, she went up the trail behind me. A pack of beasts lives up there."
I can try to find her.
"Or what's left of her. Whatever state she's in, please bring her back."
I will.
"How could I have let her do this? Oh, Gena!"
Why did she want to prove herself?
"Sometimes, Gena's a strange girl. She's a master crafter. In fact, she thinks she's one of the best woodcarvers on the coast.
I think she wanted to show off for me. Silly girl."
After finding Gena and killing the rabid nix-hound:
"She's alive … hurt and frightened, but alive."
Good to see she's safe.
"I have little to offer by way of reward, other than my thanks.
I doubt you'll remember two simple fishermen, but we'll never forget you."
After the quest:
"Disgusting bug dog! Gena, are you sure you want to keep it?"