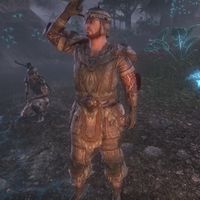 Bearfang Hunter|Bearfang Hunters are Nords who were participating in Hircine's Great Hunt in the March of Sacrifices. Unfortunately for them, their target Tarcyr killed them and their leader Dagrund the Bulky and used their bodies as thralls.
Related Quests
Edit
The Great Hunt: Conquer the March of Sacrifices and emerge victorious in the Great Hunt.
Spells and Abilities
Edit
Scorched Earth

Quick Shot

Fire Arrow

Ice Arrow

Repeated hits can freeze target solid.
During the fight, the Bearfang Hunters will occasionally yell out to you.
Bearfang Hunter: "It demands your death. I must obey!"
Bearfang Hunter: "I cannot rest! I must defeat you!"
Bearfang Hunter: "Why did you keep chasing it?"
Bearfang Hunter: "We were fools to try and hunt it. And so are you!"