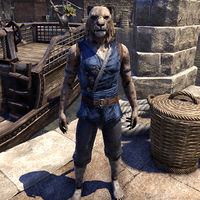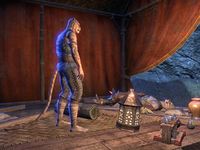 Bakhum is a Khajiit found on the docks in Abah's Landing. He asks for you to travel with him to the Maw of Lorkhaj to check up on his relative, a monk named Takanradh.
Related Quests
Edit
Quest-Related Events
Edit
After the quest:
"You should not linger here long, friend. Take this one's advice—you want no part of what is coming. Be smart like Bakhum and leave this business to the Twilight Cantors."
On the PTS Bakhum's boat could continue to be used for one-way transport to the Maw of Lorkhaj even after completion of the related quest.