Online:Bahara
The UESPWiki – Your source for The Elder Scrolls since 1995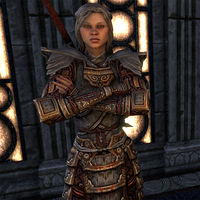 Bahara is a Redguard armsman and member of the Fighters Guild who can be found at the guildhall in Anvil. She does not enjoy being posted to the city and would much prefer to be somewhere else.

When spoken with she'll greet you with one of the following:
"This entire region languishes under a cloud of lawlessness and imminent danger. It's a disgrace! I rarely feel safe or secure walking the streets of Anvil—and I'm a member of the damn Fighters Guild!"
"At least this foul city produces one good thing—"The Adventures of Pirate Empress Thusa ap Lagud!" Have you read the latest installment? I can't wait to see how she gets out of this one!
And just between us, I enjoy the bawdy bits immensely."
"My first thought when I arrived in Anvil was, "the Fighters Guild can fix this city."
Now? I think, "whose arse do I have to kiss to get a posting in a more civilized location?""