Online:Aspect of Darloc Brae
The UESPWiki – Your source for The Elder Scrolls since 1995
Aspect of Darloc Brae
Location
Rimmen Necropolis
Race
Khajiit
Gender
Male
Health
271124
Difficulty
Reaction
Hostile
Other Information
Condition
Spirit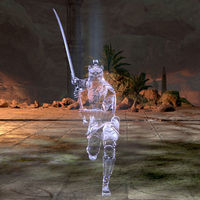 The Aspect of Darloc Brae is a Khajiit spirit and a remnant of the infamous Darloc Brae. He can be found in the Rimmen Necropolis, where he throws his undead warriors against the Champion of Mehrunnez's own daedric forces. Once you get involved, they will fight you instead.
Spells and Abilities
[
edit
]
Quick Strike

Ice Shot

Ice Cage
Dialogue
[
edit
]
After you have defeated the initial wave and the Champion of Mehrunnez for the first time, the spirit will jump down to try his hand against you:
Aspect of Darloc Brae: "Not bad, but now watch a true warrior fight."
<He jumps down.>
Aspect of Darloc Brae: "There was a time when Darloc Brae could have taught you to become legends. That time has passed."
As he approaches destruction, he will teleport back to his platform, only for the Champion to suggest they work together:
During the next wave:
Aspect of Darloc Brae: "Do you honestly believe you can defeat us?"