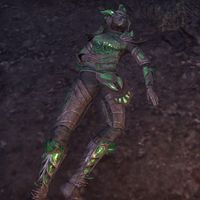 A dead Buoyant Armiger must be examined during the related quest. She died defending a pilgrim from an attack of some sort. Captain Naros later identifies her as Armiger Sydra, not knowing what became of her until you bring her Sydra's helmet.
Related Quests
Edit
Quest-Related Events
Edit
There is a dead Buoyant Armiger next to a Pilgrim at a camp near Molag Mar.
Investigating her corpse before the related quest:
<This Buoyant Armiger appears to have died defending the pilgrim laying dead nearby. Her helmet is spattered in a viscous ichor that smells of month-old fish.>
During the related quest:
<This Buoyant Armiger appears to have died defending the pilgrim laying dead nearby. Her helmet has been removed.>