Arfolasse
Home Settlement
Silsailen
Race
Altmer
Gender
Female
Health
25974
Reaction
Justice Neutral
Pickpocket
Easy
Profession
Laborer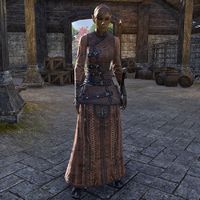 Arfolasse is an Altmer laborer who can be found in Silsailen.
If you speak to her before the Veiled Heritance is driven away:
"I can't stop worrying."
Later, she will also say:
"Oh, I hope they are safe."
Afterward, she can be found helping to repair the town:
"My family is safe because of you. Thank you."