Online:Aranak
The UESPWiki – Your source for The Elder Scrolls since 1995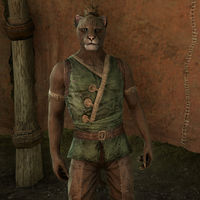 Aranak is a Khajiit merchant who can be found at his booth, Aranak's Amenities, within the village of Karthdar. His presence in the village depends on the choice you make during the Pact Advocate quest.
Related Quests
[
edit
]
Quest-Related Events
[
edit
]
After you have investigated the village, you will find Aranak has been brought to the Sacred Cave along with the other two suspects. You can then question him about the evidence you found relating to him:
"Please, it wasn't me. How could it be me? I'm a Khajiit. Only Wood Elves can break the Green Pact!"
How do you explain this Charred Rock next to your lightning shattered cart?

"Yes, there was a storm the other night, and storms bring lightning. What does that prove? I should have chosen a better place to keep my cart. That's all."

I found a book of invoices that says you delivered a stalk of the sacred flower.

"And if I did cut the flower? That doesn't solve the Wood Elves' problem. The Green Pact is their custom.
I got an anonymous order for a flower and I filled it. I didn't know the flower was sacred. The one who placed the order is guilty, not me."

I have an eyewitness who says you were creeping around outside the night the pact was broken.

"I was out in the storm, trying to clear away fallen branches and protect my cart. For all the good it did."

Thank you for the information. (Repeated after each piece of evidence is presented.)
Due to the ambiguous nature of much of the evidence, a solid case can be built for all three of the suspects. This means that it is entirely up to you who present as the culprit, if you chose Aranak and the court agrees with the evidence, you can talk with him before taking him to his punishment:
"I'm sorry for what I did. Isn't it possible to look the other way? Isn't it possible to forgive?"
Let's go.
"Please, I don't want to die. I'm not ready.
I did not mean to hurt anyone! It was just a plant!"
You will then take him down a passage the roots of the tree, where a massive strangler will be, surrounded by bones. The strangler then awakes and drains Aranak till he dies.
Dialogue
[
edit
]
If you put your faith in Aranak during the quest, he will have a new greeting when you peruse his store.
"I am grateful that you believed in me. I wish I could say the same of the others here. Many still believe I am guilty, even though the forest has returned to normal."