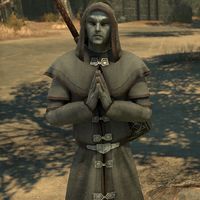 Andril Urvon is a devoted Dunmer pilgrim who can be found in the Brass Fortress, near the statue in the Reactor District.
He can be spoken to, where he will venerate Sotha Sil and his teachings.
"Our other gods spurn their curse in shame. But Lord Seht is one of his people, and so he takes our form."
"May our hearts be ever oiled and calibrated, just like our great Lord."
"The Clockwork Apostles walk the path of the Sublime Piston, which sunders the Named pursuits of those trapped upon the Line-motion."
"It is within the Omni-Axle that the fractured creation of Nirn is made whole, for only Sotha Sil knows its shape."