Alkosh's Supplicant
Location
Sunspire Courtyard
Race
Khajiit
Gender
Female
Reaction
Friendly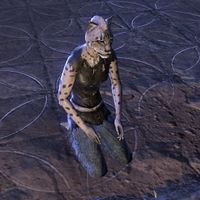 Alkosh's Supplicants are generic Khajiit who worship Alkosh and can be found in Sunspire's courtyard.
Related Quests
Edit
When you enter Sunspire's courtyard, Nahviintaas will greet you personally among his worshipers. Mojha will stand and attempt to urge everyone else into escaping. A female Alkosh's Supplicant will beg him to stop, and several generic Supplicants will flee fearfully out the door you came in through as the armed NPCs become hostile.
Navhiintaas: "More have come to serve. Good. Kneel before your god and I will give you purpose."
Mojha: "It's a trick! He'll make slaves of you. Resist while you can!"
Navhiintaas: "Faithless. Put them in their place, then put them to work."
Alkosh's Supplicant: "Don't resist! Alkosh will punish you!"
Mojha: "Fool! This is our chance for freedom!"