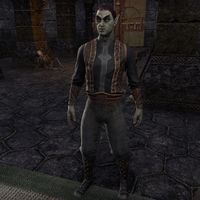 Alarel Dres is a Dunmer noble of House Dres found in his family house in the city of Mournhold.
When spoken to, he will say one of several things:
"My wife dabbles in necromancy. It's a hobby."
"Torture chamber? What torture chamber?"
"The other houses are jealous of House Dres."