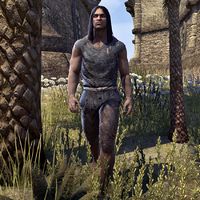 Ahad is a Redguard beggar found between the Sisters of the Sands Inn and Ilkhas al-Azif's Home in Sentinel.
He talks about the goings-on within the city.
"Where'd that monkey go?
By Malooc's nails! I bet it's run off with something of mine again.
Nothing's safe with those monkeys about."
"Sentinel is filling up with all sorts of folks these days.
I'm not sure why, but it's nice to have my relatives visiting."
"I hear there's trouble across Iliac Bay.
His Majesty, King Fahara'jad, has sent soldiers to help."
"Thank Tall Papa! I've been living in Sentinel for many years.
When I go to my ancestors, I will remember this city fondly."
"By Tava's wings! I'd rather be sailing.
Wouldn't you?"
"The price of water is higher than Tu'Whacca's Throne [sic] these days."
"O Noble One, I am a hard worker. Please, I just need a few coins to get back on my feet."