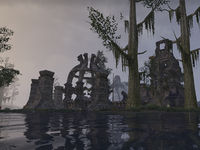 Addadshashanammu is an unmarked Daedric ruin dedicated to Sheogorath found along the Bitter Coast on Vvardenfell, northwest of Balmora. It is north of Ashalmimilkala and south of Aleft It is not marked on the map, but is one of the locations you need to visit for the Daedric Explorer achievement. A heavy sack can be found on a pavilion covered in Dunmeri corpses, including several armed guards and unarmed civilians.
Related Achievements
Edit
Achievement
Points
Description
Daedric Explorer
10
Visit all of the Daedric ruins in Vvardenfell.