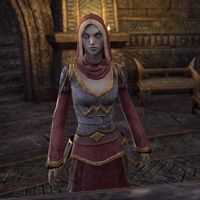 Acolyte Vuri is a Dunmer priest found at the Tribunal Temple in the city of Ebonheart.
When spoken with, she will say one of the following:
"I say the words, in the name of the Tribunal!"
"Lord, Master of Morrowind, keep us safe."
"The fire in my heart is fierce. Let it consume me!"
"I pledge myself on the rubble of broken hearth and houses."
"Wizard of Mystery, mind the clockwork at Nirn's heart."
"How many lifetimes of lament must we travel?"
"Mother Morrowind, bless us and grant us long life."